Online Bill Pay: Log in/Sign up
Recycling
At Peña's Disposal, recycling is the very focus of what we do. Our Material Recovery Facility is a one-stop shop for all recycling and refuse needs. Peña's processes recyclables in addition to refuse, organic/green waste, construction and demolition materials, e-waste, and household hazardous waste.
Our recycling starts with waste hauling, which allows Peña's customers to use a 96-gallon blue cart to dispose of items that can be recycled. The blue cart is emptied curbside and transported to our Material Recovery Facility, where the items are weighed and sorted by commodity to ensure that recyclables do not end up in the landfill.
Customers can also self-haul to Peña's in Cutler where the same process applies – we weigh and sort the material by commodity.
Recyclable Material
Aluminum cans
Books
Cardboard
Catalogs
Dry food boxes
Foil
Glass or plastic bottles & jars
Hangers
Letters & junk mail
Magazines
Milk cartons & juice boxes
Newspapers
Notebooks
Packaging
Paper bags
Phone books
Pie tins
Steel
Tin
White & colored paper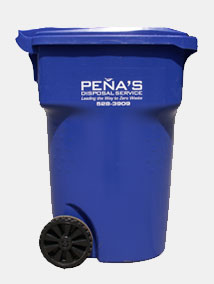 Recyclable Ag Waste
Cardboard
Plastic containers
Plastic coverings
Plastic drip-hose tubing
Plastic ties
PVC pipes
Wood pallets
Fun Recycling Facts
Plastic is recycled into carpet, t-shirt fabric, shoes, sweaters, coats, toys, luggage, and fiberfill for sleeping bags.
It takes 1,000 years for glass to break down naturally.
A plastic jug will sit in a landfill for 1 million years before it decomposes.
So do your part, RECYCLE!
For more information on recycling, visit: www.calrecycle.ca.gov
For more information on recycling in Tulare County, click here.
For more information on recycling in Fresno County, click here.